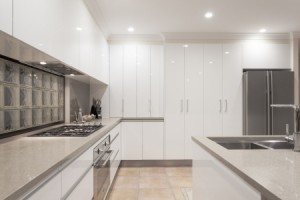 Quality Kitchen Renovations in South East Queensland
Your kitchen is where memories are made along with the meals. Chatting with the kids after school, entertaining friends on the weekend, relaxing with a wine after a long day – all are centred on your kitchen. It's no wonder that a great kitchen is one of the key selling features of a home.
A quality kitchen renovation can turn a pokey, outdated space into something stylish, modern and highly functional. A great kitchen renovation is an investment in your home and a better lifestyle.
CL Kitchens & Cabinetry specialise in kitchen renovations for units and homes of all shapes and sizes.
Kitchen Styles to Suit Your Home
We design, manufacture and install all types of kitchens from contemporary and modern styles through to colonial and farmhouse style kitchens. From the smallest compact unit through to large entertaining kitchens for the biggest of families, we listen to your needs and create a design that is reflective of your preferences and your home.
| | |
| --- | --- |
| ·       U shaped kitchens | ·       L shaped kitchens |
| ·       Galley kitchens | ·       Compact single line kitchens |
| ·       Island bench kitchens | Outdoor/Entertainment kitchens |
Perfectly Fitted To Your Room Shape
No house is 100% true and most have walls that are slightly out of plumb. Flatpack, budget and out of the box kitchens can't take this variance into account, which means you get gaps and unbalanced bits where filler has to be added to make up space.
Our kitchens are lovingly handcrafted to take into account every quirky bump, lump and wonky wall. Through our clever design and precision manufacturing, these quirks are concealed and not highlighted, giving your kitchen an architectural finish.
Budget Friendly
We design and manufacture your kitchen in our factory in Brendale, using local and Australian made materials wherever possible. This means that you save on transport and shipping costs. And because we don't have the overheads of big companies, our custom kitchens are surprisingly budget friendly.
Our Kitchen Design Process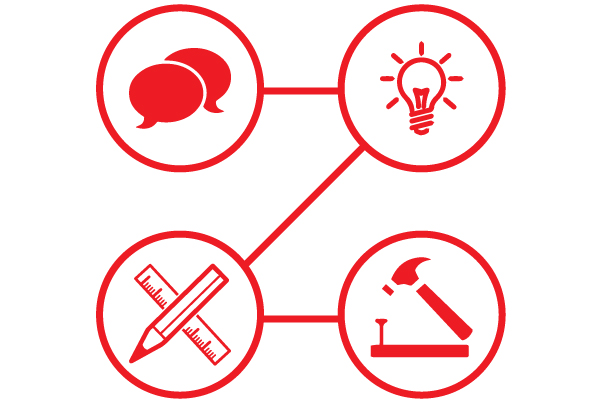 When we work with you, we start by listening to all your hopes, dreams and goals for your kitchen
Unlike other businesses, we won't give you an off-the-cuff design when we leave. We take the time to think about and consider a whole raft of options for you, bringing all of our experience to creating your ideal space. By allowing time for this reflection, we can bring you more creative and innovative options that may not have been initially apparent.
We prepare design options and talk you through our thinking. We then refine the concept together with you to end up with the perfect design for you, your needs and your budget.
Once you are happy, a deposit is paid and we get cracking on your design.
Your kitchen is hand crafted in our factory in Brendale and you are welcome to pop in to see your kitchen being made.

Fast Installation
Once you are happy, then your kitchen is ready to be installed in your home – meaning a smoother and faster installation.
And even better, if you have chosen natural/engineered stone benchtops, they can be preliminarily templated in our workshop, meaning your benchtops only need minor tweaks by our stonemason once your kitchen is installed. This means your benchtops can be installed in days and not weeks as with regular kitchen renovations.
We believe great planning makes the difference. We book and co-ordinate your tradies in advance, which means a smooth installation with no tripping over each other or needing to rework because someone hasn't finished. (Unlike what you see on TV, no quality kitchen installation can be fully done in 2 days).
If there are any last minute adjustments on installation day, by having a local Brisbane factory, we can make adjustments on the fly, rather than you having to wait 5 weeks for new panels from interstate or overseas.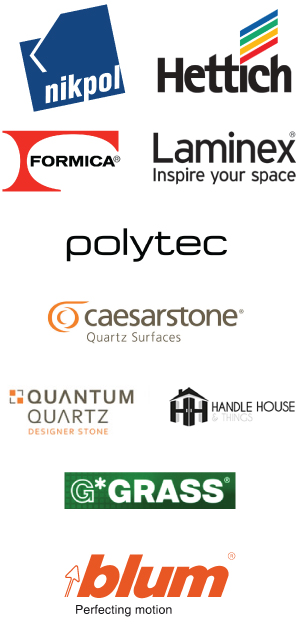 Available Finishes
2pac
Laminate
Compact Laminate
Veneer
Solid Timber
Benchtops
Granite
Stainless steel
Laminate
Engineered stone
Solid timber
Additional features
Butler's pantry
Appliance cupboard
Strip LED lighting
Glass or tile splashbacks
Pull out towel rails
Integrated bins
Integrated major appliances
Corner cupboard systems